Foam Alphabet/Number Puzzle Floor Mat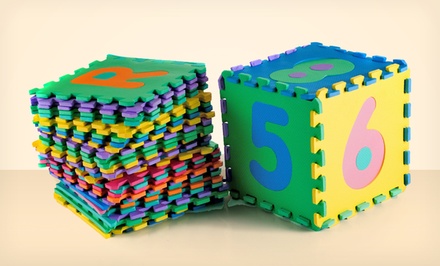 $39.99 for a 96-Piece Foam Alphabet-and-Number Puzzle Floor Mat for Kids ($69.99 List Price). Free Shipping and Returns.
In addition to helping young children learn numbers and the alphabet, this colorful foam puzzle also sharpens problem-solving skills and fosters creativity with 96 interlocking pieces that can be assembled into a spacious mat or 3D cubes. Much like a shape sorter, each tile has a space in the middle for kids to insert the appropriate number or character. Once tykes successfully put all the pieces together, the completed puzzle forms a spacious, cushioned surface.
Puzzle Contents
10 pop-out numbers
24 edge pieces
26 pop-out letters
36 foam tiles