Atari Flashback 4 Classic Game Console
My hubby wants this Atari Flashback 4! Maybe recapture a little bit of his youth? I don't know, but it looks like fun.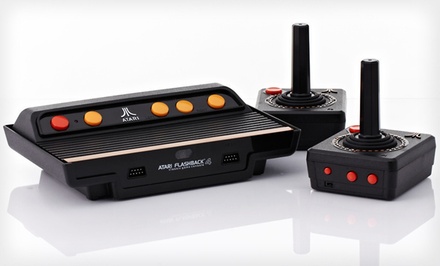 $35.99 for an Atari Flashback 4 Classic Game Console ($49.99 List Price). Free Shipping and Returns
Live or relive the days of classic gaming with the Flashback 4 game console and its 75 preloaded Atari games, such as Asteroids, Space Invaders, and Ronald Reagan's Tear Down This Wall. The compact, retro design of the console adds character and nostalgia to any living or gaming room, and two wireless controllers make it easy to play with friends while removing the risk of tripping over tangled cords. The console connects easily to most TVs, and an extra menu button on controllers lets players quickly access the system's list of games.
Compact, retro console design
Preloaded with 75 classic games, such as Centipede, Asteroids, Space Invaders, Missile Command, Jungle Hunt, and Front Line
Two wireless controllers
Extra menu button for fast access to games
Compatible with most televisions and Times Square displays
Includes classic Asteroids poster
Free returns. Free shipping. Does not ship to AK/HI/Canada/Puerto Rico.