Barbie Beach Cruiser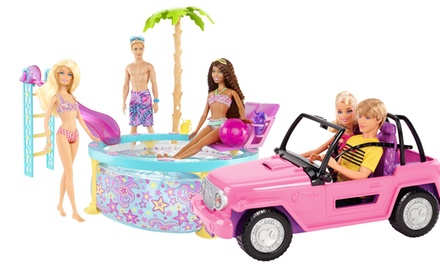 Barbie Beach Cruiser $13.99. Free Returns.
Barbie and her pals can take a spin in her cruiser or kick back by the pool to unwind after stressful encounters with chew-happy puppies. The beach cruiser's open-top design makes it easier to get dolls in and out, and its functional wheels lead to hours of exciting driving time. For a detailed tableau, the beach glam pool set includes a slide, palm tree, beach ball, and lounge chair for two, letting kids create fun days of playing in the sun for Barbie.
Beach Cruiser
Functional toy cruiser
Open-top design
Pink body
Attached seat belts
"Barbie" vanity plate
Themed hubcaps
Dolls sold separately
Weight: 2.51 lb.
Dimensions: 7.52″ (L) x 14.09″ (W) x 8.78″ (H)