Epoca Tea Flowering Tea Gift Sets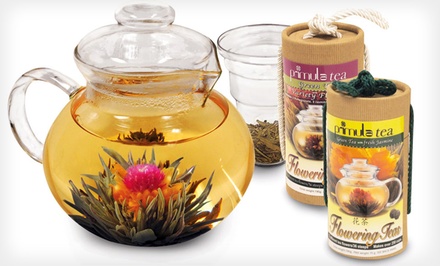 Epoca Tea Flowering Tea Gift Sets with a Teapot and 12 or 24 Teas (Up to 33% Off). Free Shipping.
Primula's hand-blown glass teapots replace drab teabags with the ambrosial aromas, vibrant visuals, and antioxidant-packed petals of whole-flower blossoms, which plop into the crystal-clear container to transform into steaming cups of freshly brewed green tea. Handpicked from China's Fujian province, the green teas are hand sewn around a dried flower that blooms when added to hot water. The loose-leaf tea infuser inspires sippers to create novel tea blends that include favorite fruits, flowers, or shredded encyclopedia pages to invigorate the mind. The pot's borosilicate-glass makeup withstands high heat and is durable enough for use on a stovetop or cleaning in the dishwasher.
The Deal
$21.99 for an Epoca Tea flowering tea gift set ($29.99 list price). The set includes:
40-ounce glass teapot
Loose-tea infuser
12 flowering green teas
$29.99 for an Epoca Tea flowering tea gift set ($45 list price). The set includes:
40-ounce glass teapot
Loose-tea infuser
24 flowering green teas