This is a Sponsored post written by me on behalf of Scotts Miracle-Gro for SocialSpark. All opinions are 100% mine.
Now that Fall is here it is time to decide which yard project I would liket o try this year. Living in the Southeast we really don't have seasons, but some foods are better grown during the Fall. I've decided I'm going to grow Sweet Peppers because I use them throughout the year in quite a few of my recipes. Another benefit is that if I  grow them myself and have the kids help me, they will be even more excited to eat them. I always buy the jarred , roasted sweet peppers for cooking, but I want to try and roast them myself.
I looked on Pinterest (my go-to for everything) and looked for instructions on how to roast them and found instructions from Better Homes and Gardens.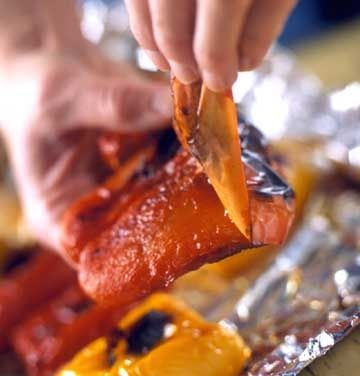 The instructions couldn't be easier.
1. Halve peppers lengthwise, remove seeds, stem and membrane.
2. Place pepper halves cut side down, on a foil lined baking sheet in a 425 degree oven for 20 to 25 minutes or until the skins are blistered and dark.
3. Bring the foil around the halves to enclose and let stand for about 15 minutes or until cool enough to handle.
4. Use a sharp knife to loosen the edges of the skins from the pepper halves. Gently and slowly pull off the skin in strips. Discard the strips.
How easy is that?!? Now, back to growing the peppers. I need to start with Miracle-Gro Garden Soil for Flowers & Vegetables. I've already got a small plot in the backyard to plant the seeds. Fall gardening is so much fun! I can't wait to get my hands dirty and start growing some wonderful vegetables.
How will you Find beauty in the Fall? Join other gardeners on the Miracle-Gro Facebook page and share your stories and find inspiration.