Ford F-150 RC Monster Truck
My son absolutely loves monster trucks and has been asking for a RC Monster Truck. This is a great deal with fast delivery.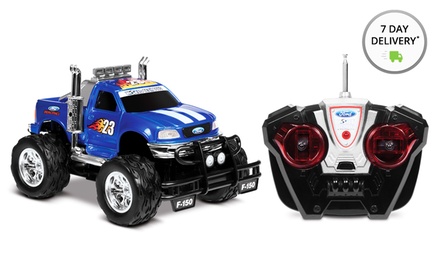 Ford F-150 RC Monster Truck. Free Returns.
Officially licensed by Ford, this 1:18 scale, radio-controlled F-150 conquers backyard terrain such as anthills, crabgrass patches, and geyser fields. Giant rubber tires sport flame-patterned tread for sure traction. The paint job shows off detailing such as racing stripes on the hood, which look even sharper under a high-gloss finish. Just install batteries (not included) and the truck is ready to go.
1:18 scale, radio-controlled Ford F-150 monster truck
Battery-powered truck and full-function control
Detailed paint job with high-gloss finish
Colorful graphics such as Ford Racing
Rubber monster-truck tires
Flame tread pattern
Tows up to 20 tons
Officially licensed by Ford
Ready to run (RTR), just add batteries
Vehicle: four AA alkaline batteries (not included)
Radio control: 9V battery (not included)
Dimensions: 9.5″ (L) x 6″ (W) x 4.5″ (H)