GLOSS Moderne Two-Piece Haircare Duo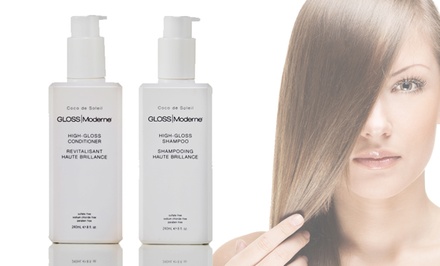 $28.99 for a GLOSS Moderne High-Gloss Shampoo and Conditioner ($71 List Price). Free Shipping.
GLOSS Moderne's high-gloss shampoo and conditioner deliver a double dose of moisture to transform drab hair into a runway-ready 'do. The shampoo protects color and extends the life of keratin treatments as it simultaneously infuses locks with shine. Let the conditioner soak in for up to two minutes—or the time it takes to scrub your knees in slow motion—for silkier, more manageable hair that's freer from frizz. Both formulas are also free from sulfates, sodium chloride, and parabens.
The Deal
$28.99 for a GLOSS Moderne high-gloss haircare duo ($71 list price), which includes:
One 8-ounce bottle of shampoo
One 8-ounce bottle of conditioner