JBuds J6M Earbuds with Hands-Free Microphone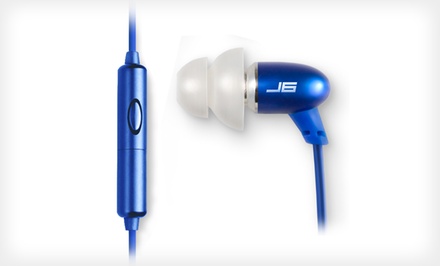 $14.99 for JLab JBuds J6M Earbuds in Black, Blue, Pink, or Silver ($89.95 List Price).
Crisp audio pours from the titanium 6-millimeter microdrivers inside slim earbuds that comfortably contour to aural cavities with an ergonomic design. Durability comes courtesy of a Kevlar-reinforced cable with 24-karat gold-plated jack designed to withstand the elements. Packaged in a stylish vinyl pouch, the earbuds also include an inline microphone and track control for iPhones, iPads, Androids, tablets, BlackBerrys, and HTCs.
The Deal
$14.99 for one pair of JLab JBuds J6M ergonomic metal earbuds with microphone ($89.95 list price). Choose from the following colors:
$2.99 flat-rate shipping fee for purchases less than $15. Free shipping for purchases of $15 or more. Does not ship to AK/HI/Canada/Puerto Rico.