Kidz Bop 4-CD Bundle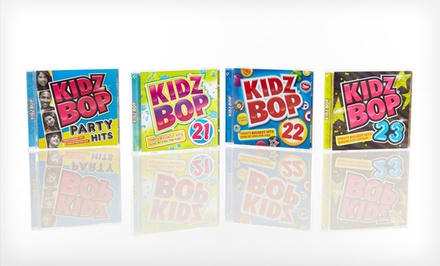 $22.99 for Kidz Bop Party Hits with Volumes 21, 22, and 23 ($70.96 List Price). Free Shipping and Returns.
Each of these CDs features popular musical tracks sung by kids for kids. Take a short trip back to 2012 with Volume 21's "Moves Like Jagger" before moving on to Volume 22's "Somebody That I Used to Know." Volume 23 makes its way to the present with hits including "Locked Out of Heaven," "We Are Never Ever Getting Back Together," and "Scratch That, We Got Back Together." The latest release, Kidz Bop Party Hits, compiles upbeat dance music from the past two decades, offering youthful renditions of songs by Outkast and Beyoncé.
The Deal
$22.99 for a Kidz Bop four-CD bundle ($70.96 list price)
 Party Hits
 Volume 21
 Volume 22
 Volume 23