Remote-Control Sports Car & Helicopter Set
This is one of the items on my 5 year old's wish list. He loves the RC cars.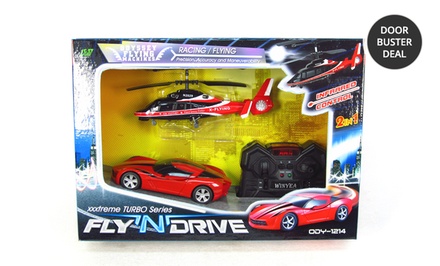 Fly 'N Drive Remote-Control Sports Car and Helicopter Set. Free Returns.
Few, except perhaps for the mega-wealthy, James Bond, and James Bond's 24/7 on-call tailor, ever have the privilege of owning both a sports car and a helicopter. The Fly 'N Drive lets hobbyists sample this life of luxury. One rechargeable remote sends out infrared beams that control both the car and helicopter. Use the easy-to-operate double-joystick interface to perform daring rescues with the chopper and race around obstacles with the sleek-looking race-car. A simple one-button design toggles between the two vehicles, and the on/off switch helps conserve power.
RC car and helicopter set
Both controlled by one infrared remote
Dedicated button toggles between vehicles
Sleek sports-car and rescue helicopter
Rechargeable remote
Dimensions:

Car: 5.75″x3″x2″
Helicopter: 7″x4″x2″
Free returns. Does not ship to AK/HI/Canada/Puerto Rico.