Transformers Trilogy on Blu-ray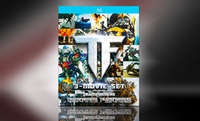 $29.99 for the Transformers Trilogy on Blu-ray ($57.99 List Price). Free Shipping and Returns.
In director Michael Bay's larger-than-life film adaptation of the famed cartoons and toys, giant robots destroy everything from downtown Chicago to the Great Pyramids to the moon's coldest rocks. This three-disc set contains all of Bay's Transformersmovies, which follow Sam Witwicky (Shia LaBeouf) as he stumbles upon the mythical Allspark, reigniting an ancient intergalactic feud between the Autobots and the Decepticons. Filled with countless explosions, CGI battles, and stars including Megan Fox and Josh Duhamel, the series received several Academy Award nominations, including Best Sound Mixing nods for all three films—surpassing even beloved sci-fi movie trilogies such as RoboCop.
Trilogy Titles
Transformers
Transformers: Revenge of the Fallen
Transformers: Dark of the Moon