Sirius Beauty Sonic Skincare System
Save 51% on Sirius Beauty Sonic Skincare System with this Groupon deal.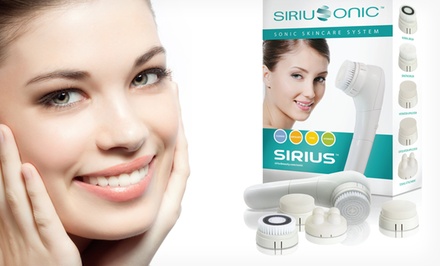 $23.99 for a Sirius Beauty Sonic Skincare System with Exfoliating Brushes ($49 List Price). Free Shipping and Returns.
Sirius Beauty's sonic skincare system purifies the skin by buffing away dead skin cells and removing makeup. An oscillating brush vibrates at up to 300 motions per second, whisking over façades to steal away up to six times more makeup than traditional cleansing methods or freelancing clowns. It can also help sweep away dead skin cells to reveal younger, more radiant skin. The waterproof set includes brushes for both normal and sensitive skin types and is safe enough for use on skin affected with rosacea and acne. The system is gentle enough for use to cleanse and tone twice daily and to exfoliate twice weekly, and the exfoliating brush may also enhance the skin's ability to absorb moisturizer, nutrients.
System Contents
Waterproof sonic oscillation brush
Brush head for normal skin
Brush head for sensitive skin
Exfoliation applicator
Hydration applicator
Toning attachment
Storage cradle
Free returns. Free shipping. Does not ship to AK/HI/Canada/Puerto Rico.