Wahl 18-Piece Haircutting Kit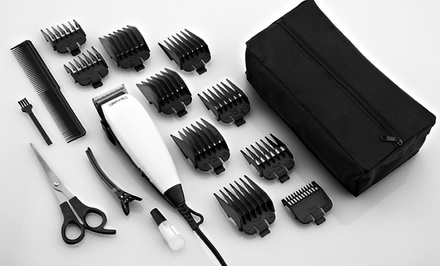 $17.99 for a Wahl 18-Piece Haircutting Kit ($37.99 List Price). Free Shipping and Returns.
A pair of multicut clippers glides through hair, shearing strands to your preferred length thanks to 10 guide combs and an adjustable taper control that enhances its precision. A styling comb, scissors, and hair clip,instructions and a styling guide printed in English and Spanish. Blade oil and a cleaning brush keep the clippers running smoothly, and a soft zipper case bundles all the items together for convenient storage and travel.
Kit Contents
White multicut clippers with blade guard
10 guide combs
Styling comb
Scissors
Hair clip
Blade oil
Cleaning brush
Soft zipper storage case
English/Spanish instructions and styling guide